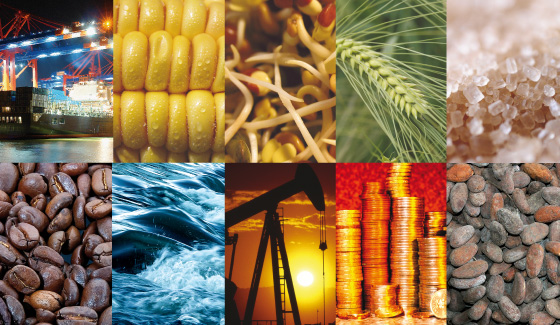 Southstar's core business has been the containerized soft commodity transports.
The company is divided in 5 main Commodity departments and is qualified with the market knowledge and the shipping experience to treat this type of cargoes in the greatest efficiency.
Major products and their respective departments in Southstar are:
Green and Soluble Coffee Freight Desk
Refined, White and Organic Sugar Freight Desk (incl. Sweeteners - ACP/LDC Preferential Sugars – Export Quota Sugars – IPR)
Rice and Grains Freight Desk
Canned Fruit / Vegetable / Meat Products Freight Desk
Various Commodities Freight Desk (Cocoa / Tea / Cotton / Plywood / Sesame / Raw Tobacco / Fertilizers / PVC / Soya / etc.)
Southstar is staffed with a team of specialists in all modes of sea & land transportation fields for these commodity products and has a deep understanding in the special requirements and needs of each, in order to generate and ensure sophisticated transport solutions and projects for each client.

The Commodity Traders, who are involved in trading activities of such cargoes around the globe, receive on time, updated freight quotes for their business and sale projects.

SouthStar Shipping and it's network are taking over the time consuming procedure of canvassing the shipping market in order to select and secure the best conditions and transport costs and procure the most suitable service to its clients for cargoes running under specific trade-lines.

Moreover, under this procedure the best services and freight costs are selected, analyzed and categorized by "best Value for Money" order, whereas thereafter Company's Management is setting the strategy and performs the long term agreements with the top selected carriers on each trade line.

Therafter the group's Sales Team will make use of such agreements for the fulfillment of client's requirements for contractual or spot shipping obligations.
In sequence, Southstar's operational offices around the Globe, with their experienced personnel, are taking care of each single shipping order with highest professionalism and in close co-operation and co-ordination with the head office sales administrators, so that each load to be executed in the smoothest and most efficient way.

Finally, through the broad coverage of global offices established in the major origin countries where the commodity cargoes are shipped from, Southstar secures insight of the local market, expertise on the local operations and the best conditions for serving the orders of its clients on the most efficient, safe and economical way for both the Trader and his local supplier.
For Further information and Inquiries please contact the following teams :
Green and Soluble Coffee Transport Desk
Coffee Transport Analyst and Chief of Coffee Freight Sales | coffee@southstarshipping.com
White and Organic Sugar Transport Desk (incl. Sweeteners - ACP/LDC Preferential Sugars – Export Quota Sugars)
Sugar Transport Analyst and Chief of Sugar Freight Sales | sugar@southstarshipping.com
Rice and Grains Transport Desk
Rice Transport Analyst and Chief of Rice Freight Sales | rice@southstarshipping.com
Canned Fruit / Vegetable / Meat Products Transport Desk
Canned products Transport Analyst and Freight Sales | canpro@southstarshipping.com
Various Commodities Transport Desk (Cocoa / Tea / Cotton / Plywood / Sesame / Raw Tobacco / Fertilizers / PVC / Soya / etc.) | info@southstarshipping.com